Personal Care
Safety and mildness are key requirements in today's personal care industry and are increasingly driving formulators to focus their interest on natural and naturally-derived raw materials. But just being mild and safe is not enough: today's raw materials should meet an outstanding technological performance as well.
In Sisterna sucrose esters these requirements are combined. Being based on sucrose and vegetable fatty acids, Sisterna sucrose esters are a unique range of high quality, non-ionic emulsifiers with an exceptional performance and mildness to skin and eyes.
Sisterna sucrose esters can offer other unique benefits to personal care formulations, thus offering formulators many advantages in these times of environmental consciousness.
More about:
Benefits 
Based on natural, renewable and non-GMO raw materials
High quality
Easily biodegradable
Non-ionic
Ethylene oxide or PEG free
Covering a wide range of HLB values
Neutral in taste and odour
Edible
Our Application Concepts for Personal Care
Emulsification possibilities
We will show the ease of using sucrose esters and their emulsifying capacities by making a simple thin lotion. We will demonstrate 3 ways of making an emulsion. Each method has its own characteristics. - you can add the sucrose esters to the oil phase, - to the water phase - or you can make a emulsion with the one pot method.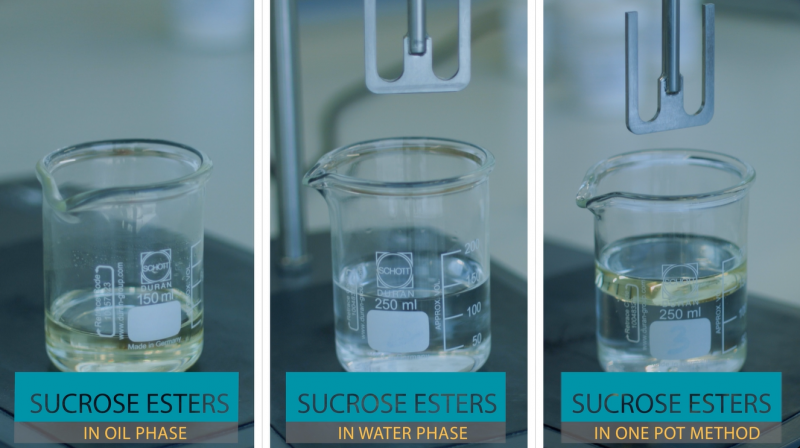 What are sucrose esters?
Sisterna sucrose esters are a unique range of high quality, PEG-free, non-ionic emulsifiers with an exceptional performance, skin feel and mildness. They are made from sucrose and vegetable fatty acids.
What are the main functionalities of sucrose esters?
Sisterna sucrose esters are used for their following main functions:
emulsifier for oil-in-water (O/W) emulsions, including lamellar liquid crystalline (LLC) emulsions
co-emulsifier for water-in-oil (W/O) emulsions
surfactant
lipidic phase modifier
Which certifications do the Sisterna sucrose esters have?
Sisterna sucrose esters are suitable for use in natural and vegan cosmetic products and have natural certifications such as COSMOS/Ecocert, Natrue and NPA. Also the sucrose esters are derived from sustainable palm oil through RSPO MB certification. There may be small variations per grade. Please check each grade to find out if the certification applies.
If your question is not listed, please contact us!