Sucrose Esters for Food
Sucrose esters of fatty acids, commonly known as sucrose esters, and sucrose oligo esters are a unique group of emulsifiers. Sucrose esters are obtained by esterifying sucrose with methyl fatty acids. By varying the degree of esterification of the sucrose molecule it is possible to obtain emulsifiers with HLB values ranging from 1 up to 16.
Chemical structure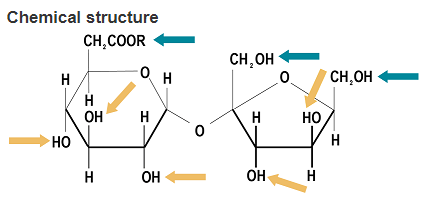 Hydrophilic - Lipophilic - Balance (HLB)
For each emulsifier a HLB-value can be calculated, a hydrophilic (water loving) emulsifier has a high HLB value, a lipophilic (oil loving) emulsifier has a low HLB value.
Low HLB  3-6  good W/O-emulsifier
Medium HLB  7-9  good wetting agent
High HLB  10-18  good O/W-emulsifier
Classification
Sucrose esters include sucrose esters of fatty acids (E473) and sucrose oligo esters. The classification depends on the ratio mono-, di-, and tri- esters.
 

mono

di

tri

tetra

penta

hexa

hepta

octa

Sucrose esters

>80%

<10%

Sucrose oligo esters

<45%

>50%

<40%
Regulatory information
Sucrose esters are permitted in Europe, USA, Japan and many other area's.
Benefits 
High grade emulsifiers
Wide HLB spectrum
Neutral in taste, odour and colour
Soluble in (cold) water
Stable under UHT conditions
Renewable raw materials
Kosher, non-GMO, vegetarian
Our Applications for Food
Find Your Local Distributor
Sisterna maintains a sales and promotion distribution network throughout Europe and the US. These exclusive distributors are frequently trained and updated with the latest developments and can thus provide technical help alongside the standard things such as brochures, samples and products.