Sucrose esters as alternative for TiO2 in panning confection
As the concerns about the health effects of Titanium dioxide continue to rise, many confectionery producers are looking for alternative whitening agents. Sucrose esters can be a good option for panning confectionery, with a strong positive effect on the white colour of the sugar coating.
Whiter appearance
Sugar coating with sucrose esters has an improved matrix of crystallised sugar. One of the effects of this different texture is the whiter appearance. This is the reason why sucrose esters can replace TiO2. A low dosage of 0.5% sucrose esters in the sugar solution will result in a similar whiteness that is reached with approx. 0.4% TiO2. The whiter coating will make the colour of the final layer more pronounced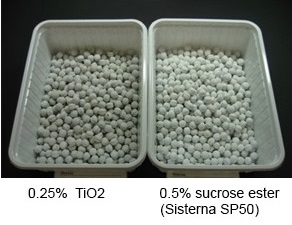 Sucrose esters not only provide an alternative whitening solution, but also offer technical and production advantages in the panning process. These benefits include:  
Shorter production time
Adding 0.5% sucrose esters to the spraying solution, a typical 5 hour panning process, can be reduced with 30 to 60 minutes (9 – 19% shorter).
Smoother surface
Addition of sucrose esters results in a much smoother surface after the engrossing step. This could make the (even more time consuming) smoothening step no longer necessary, or at least reduce it. This smoothening effect of sucrose esters is even more explicit when TiO2 is replaced, because TiO2 makes the sugar coating more course.
Less permeable layer
Using sucrose esters in the sugar coating makes the sugar coating less permeable for watery and oily  substances. This remarkable phenomenon will make the use of gum arabic less necessary. Possible defects in the pre-coating will not lead to severe problems in the outer layer.

The benefits of sucrose esters apply on sugar panning, as well as sugar-free panning (e.g. maltitol, isomalt or xylitol).
For more information, please contact your local distributor. 
Find Your Local Distributor
Sisterna maintains a sales and promotion distribution network throughout Europe and the US. These exclusive distributors are frequently trained and updated with the latest developments and can thus provide technical help alongside the standard things such as brochures, samples and products.